Rural enterprise support played a huge role in the journey of Trans Farm to become the world's largest supplier of caraway.
Häme regional export award. National Entrepreneurship Award. These were collected by Trans Farm Oy, based in Riihimäki, in recognition of its business operations. And with good reason: they are the leading producer and processer of caraway in the world, exporting to more than 40 countries.
The company submitted its first funding application to the Centre for Economic Development, Transport and the Environment in 2005. They then built the first part of the plant in Riihimäki that houses Trans Farm. With an area of 2,000 square metres, the plant cost EUR 1.5 million, of which support from the European Agricultural Fund for Rural Development covered 15%. The plant was expanded in 2012, again with support from the Fund, to a total of 3,200 square metres.
First funding decision is the most vital
Trans Farm was established by Juha Hemminki and Jyrki Leppälä in 1990. The two were students back then, and it seemed like a good idea at the time.
"But it has taken a lot of hard work and courage. We went out on a limb when we set out in this business," says Juha Hemminki, describing the early days of the business. Today, the company employs 11 persons in Riihimäki and has a turnover of about EUR 6.5 million.
"Without that first award of investment funding, we would never have got this off the ground. We had no property that we could have pledged as collateral, and it was the funding decision that secured us a loan at the bank. Without the support, we would have needed to find the same amount of funding elsewhere, and that would have been pretty much impossible. But we've managed to do the right things at the right time. When opportunity knocks, you need to answer," says Jyrki Leppälä.
From the first, the newly-founded business aimed to ship its products abroad and sought customers on a global scale. The company's very first shipments were sold to Germany, and to this day Europe is Trans Farm's largest export area. They also export caraway to the USA and to northern Africa, among other places. Sales within Finland are actually minimal.
"We had caraway growing on our family farm, and that's where I developed an interest in processing it into a raw material for the food industry. Initially caraway was a bit of an outlier, but now caraway farming is a serious thing, and there are major professional caraway farmers in Finland," explains Jyrki Leppälä.
"Caraway is used in the food, pharmaceutical and cosmetics industries. Our biggest customers make bread and spices. Caraway is also used in perfumes and alcoholic beverages," says Juha Hemminki.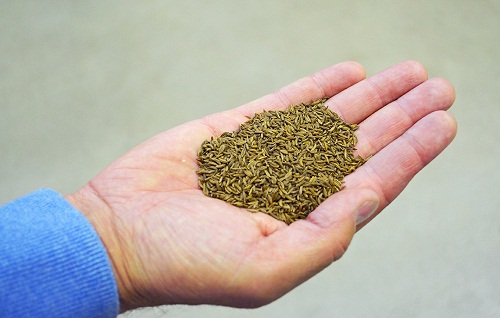 Separated and cleaned caraway seeds are used as a spice all around the world.
Caraway is a northern plant

Finland's climate is excellent for growing caraway, which thrives up to the latitude of Oulu. However, most of Finland's caraway farming is in the south, particularly in Häme. Generally, caraway does best in a northern climate.
"Caraway farming has all but disappeared in western Europe. I'd like to believe that we're the main reason for that, because our supply security and quality are better. Our main competitors are in eastern Europe and Canada," explains Hemminki.
Trans Farm currently has about 1,000 contract farmers around Finland. Caraway farming does not require any particular investments on a farm; all it takes is know-how.
"We organise training sessions and farming days for our farmers and are in constant collaboration with them," says Leppälä.
New optical separator increases capacity
In the 2000s, Trans Farm has made further machinery investments, also supported by the Centre for Economic Development, Transport and the Environment. The latest investment is a new optical separator; 20% of its cost, just under EUR 190,000, came from investment support from the Agricultural Fund. The overall aim was to increase capacity.
"What we actually do is processing: we strip away everything except the seeds from the caraway. The optical separator removes debris that mechanical devices are unable to remove," says Juha Hemminki.
Mechanical separators can extract foreign seeds and bits of straw from the caraway, but debris of the same grain size as the caraway seeds remains. In the optical separator, the caraway seeds run down troughs at a steady speed. The three cameras in the device generate images of the seeds from various directions and pinpoint items that are of the same size but the wrong colour as the real stuff. This debris is removed by air separation.
"Technological advancements have been huge, and this new machine is much quicker and more efficient. Our old optical separator had become a bottleneck in the process. Now we can make better use of the capacity of the other devices and increase the processing line speed," says Jyrki Leppälä.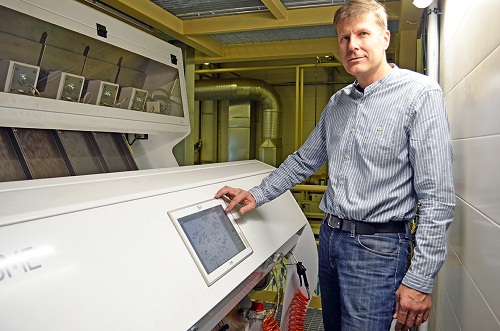 Jyrki Leppälä demonstrates how the new optical separator works. Millions of caraway seeds pass through the separator every day.
Both Hemminki and Leppälä note that applying for further funding from the Häme Centre for Economic Development, Transport and the Environment has been a smooth process every time. Both also stress the importance of investments and funding.
"For us, getting funding allowed us to bring investment decisions forward, and we've been able to get bigger and better equipment. We've never hit a snag with our funding applications," says Leppälä.